Welcome to SUSSEX EAST

A beautiful County where one is never more than about an hour's drive from the coast. We stretch from the Ancient town of Rye in the East to Hove in the West, Eastbourne in the South to Wadhurst in the North. At present we have 25 Guilds with a total membership of 450, spread across this large County.

The County of Sussex East came about in 1965 when, for Guiding purposes, it was felt the time was right because of the increasing numbers joining the movement, to divide the County into two.

There is a wealth of history in East Sussex, whose County Town is Lewes. The most famous of course is The Battle of Hastings in 1066. The Cinque Ports are another important part of our County's history. We also have the glorious Weald area; the South Downs National Park and the Seven Sisters Country Park with their magnificent white cliffs. With the history and the many attractions the County has to offer, there is always something for Trefoil members of all ages to do and see.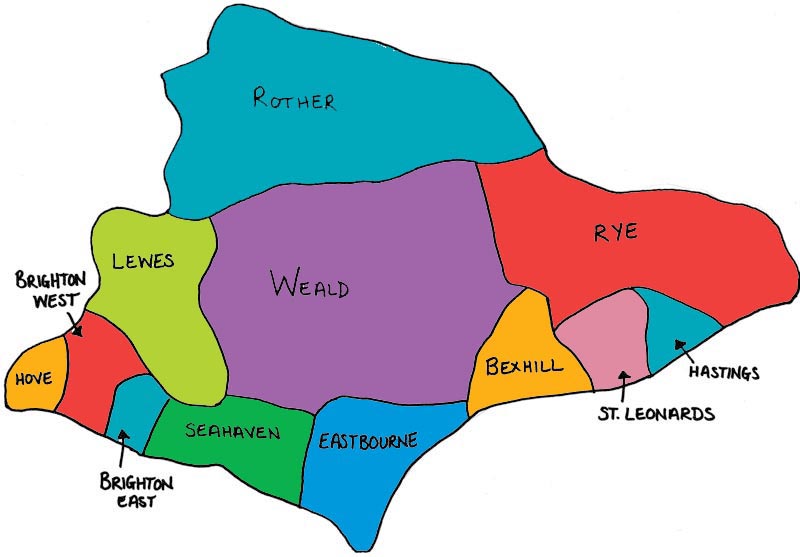 County Trefoil has an extremely good relationship with Girlguiding, and are invited to be involved in County events;
this together with giving service and support in their own area to the Units of our younger sections, keep us young at heart and as active as possible.
Our Guilds are:
Beckley District 3rd Monday Afternoon
Bexhill 3rd Monday Evening
Brighton East Monthly but day and time varies
Crowborough 2ndTuesday Evening
1st Eastbourne 2nd Monday Afternoon
Fairlight 4th Wednesday Morning
Hailsham 1st Wednesday Evening
1st Hastings and St Leonards 2nd Wednesday Afternoon
Heathfield 3rd Wednesday Evening
Hove Division 1st Tuesday Afternoon
Hove Division 4th Tuesday Evening
Lewes Division 4th Wednesday Afternoon
Lewes Windmill Division 3rd Wednesday Evening
Mountney District (Eastbourne) 1st Friday Evening
Patcham District 3rd Thursday Evening
Prestonville District Friday (Alternate Months) Evening
Robertsbridge District 1st Thursday Afternoon
Rye District 2nd Wednesday Evening
Seahaven 1st Tuesday Afternoon
Seahaven 3rd Thursday Evening
St Leonards (Anchors) 2nd Monday Evening
Uckfield 2nd Wednesday Evening
Wadhurst 1st Monday Afternoon
Further information as to a Guild near to you please contact the County Secretary
is Mrs Jill Weller email addresd:
jill_weller@hotmail.com
Our newly appointed County Chair is Jane Stern
janeasteen
@hotmail.com
Here is the latest news from Sussex East -
May 2017